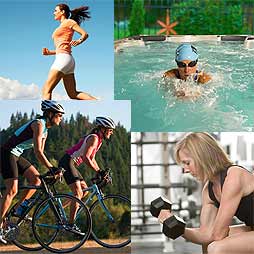 It's that time of year. Summer is here. And if recent temps are any indication, it's going to be a hot 3 months. Which may require you to cut down on your training - that is, if you are like us and prefer training outdoors but don't much enjoy the sweltering heat. Of course you can always just drink more water, but even the pros have off seasons, and what better time than summer to reduce your training volume in favor of other pleasurable past-times (margaritas at the beach, anyone?). In other words, to beat the heat, brevity is best. And with a little wisdom and judiciousness, you can cut back on the sweat-producing activities without gaining pounds, losing fitness or being racked with guilt. If you follow this simple routine, you may even make gains that translate to improved performance in your exercise(s) of choice. We call it the 4321 rule. 4321 equals summer fun.
FOUR
Four runs. There's no escaping the jog, even in recovery months, since running forms the basis of many sports, burns more calories than most any other activity, can be done anywhere, requires minimal equipment, and is free. But if the idea of slogging through 2-hour long runs in the dog days of summer doesn't make you jump for joy, we feel you. Instead, reduce time pounding the pavement, and focus on speed. Four runs of 20 to 30 minutes each are enough to keep the wheels turning and the calories burning.
THREE
Three rides. Since biking is an exercise that is enjoyable even in warm weather - can you feel the breeze? - ramp up the bike rides. Invest in an entry-level road bike if you don't have your own wheels, or hit the trails on a mountain bike. The gym's lifecycle is an option, though try to keep the image of rat on a treadmill out of your mind. And why aren't you outdoors!
TWO
Two resistance sessions, each of 10 sets each. This can be any combination of bodyweight exercises, resistance band movements, or weights. Each session should take you about 20 minutes, which is about a minute for the set and a minute of rest in between. Aim for 3 exercises of 3 sets each, plus a warm-up.
ONE
One rhymes with fun, and use this workout to make like a kid and play. Join a game of pickup hoops at the park, visit your nearest yoga center, skateboard, run stairs, jump rope, take a swim, go roller skating. Houseclean, garden, go take a hike (we mean that in a good way!). Whatever you do, the focus should be less on a workout and more on the pure enjoyment of celebrating movement. Keep your breathing at a conversational rate - but don't try to talk in the water or you could wind up with a mouthful - of chlorine, that is. In the pool, mum's the word!
Each workout should take you a maximum of 30 minutes. 4+3+2+1 adds to a perfect 10. Ten workouts each week require only 3 to 5 hours. Because they are short and sweet, combine workouts - say a bike followed by a run, or either followed by weights. Doubling up allows for the coveted rest days and (enter drink of choice here). Have one for us!